CHRIS JAGGER's ATCHA IN KUFSTEIN, AUSTRIA, March 3rd 2000
Kulturfabrik Kufstein, Austria
Please note:
CHRIS JAGGER TRIO
Chris Jagger, Charlie Hart, Ben Waters
Thursday, September 25th 2003, 8pm
TREIBHAUS INNSBRUCK - AUSTRIA
all details here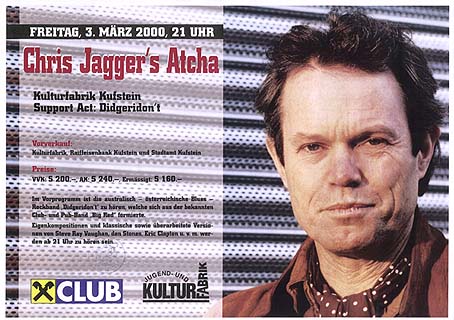 03.23.2000 - Giessen, Frankfurt, Germany
03.24.2000 - Schwanen, Pfäffikon, Switzerland
03.25.2000 - Mühldorf, Bavaria, Germany - please note seperate report!!
03.26.2000 - Obing, Bavaria, Germany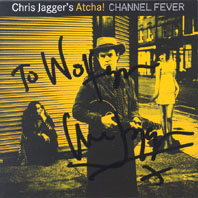 Channel Fever
© 1999 Hypertension / Latent Talent 9186 HYP
13 new songs by Chris Jagger and his band - Malcolm Mortimer, Paul Emile, Charlie Hart & Ed Deane. It's both cajun & hillbilly, rootsy & bluesy too, with fine playing & some guest appearances notably by bassist Danny Thompson & percussion master Gaspar Lawal. Primarily it's a band record with Chris at the wheel. Ed Deane returns from his spell with Nick Lowe to sound as vintage as ever & Charlie Hart continues in the line he once followed with Ronnie Lane's 'Slim Chance'. This great album has been produced by Chris Jagger with assist from Charlie Hart and Chris Kimsey. (executive producer M.P. Jagger)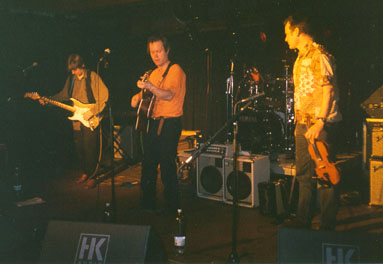 Chris Jagger's 'Atcha' concert in Kufstein, Austria, was one of the author's best concerts ever
It's was a special warm up-gig for 'Atcha's' following Europe tour. The audience of about 150 people had an unforgettable experience.
Chris opened the concert warmly and after his second song, the great "Channel Fever", he invited the audience to come closer to the stage for better communication.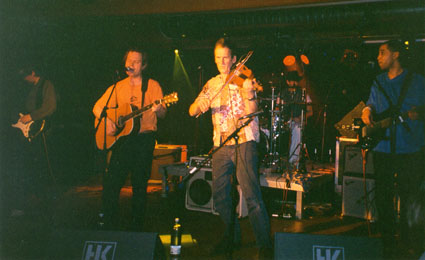 The concert itself was Rock, Blues and Zydeco, some very fast country style, but also a lot of great lyrics and some impressive ballads as well. The whole concert was full of energy, which 'Atcha' gave to the audience.
Most impressive was the charme of the band !
Chris introduced his songs in rather good German, and danced and played the washboard amongst the audience. Wow!
Charlie Hart played wonderfully on both Fiddle and Accordion, working together perfectly with Chris and the audience. Charlie seemed to be a little shy, but felt comfortable enough with the audience to play along with some conversation.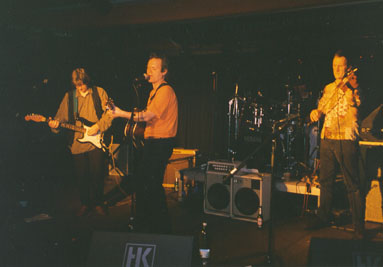 Ed Deane was incredible on guitar !
His guitar, supported by Paul Emile on bass and Malcolm Mortimer on the drums, was more than impressive!
By the way, thanks for the great conversation and fun we had !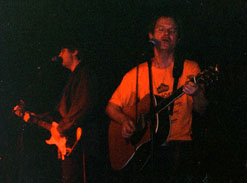 Chris sings about his family, 'Crazy': brother likes to get up on the stage and raise the hullabaloo...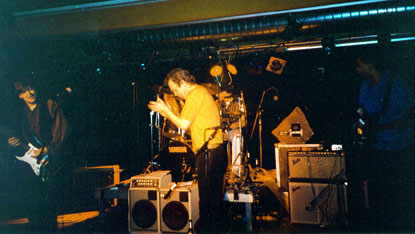 Chris also asked the audience for a keyboard player to play with him. He found one, of course, but where is the live CD of this great experience ?

Chris, thanks a lot for this great show !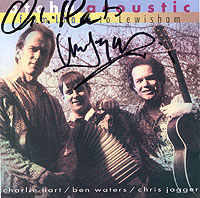 atcha accoustic
From Lhasa to Lewisham
charlie hart / ben waters / chris jagger
© 1997 Latent Talent Publishing, 1998 Hypertension Music, 8176 HYP
a great album far from commercial ideas, but great music ! Charlie Hart on fiddle and accordion (as well as producer) and Ed Deane on guitars, make this record a wonderful listening experience.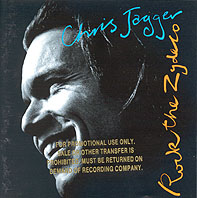 Rock The Zydeco
for promotional use only
featuring Dave Gilmour, Mick Jagger, Leo Sayer, Dave Stewart, Dick Heckstall-Smith
Makes you wanna get up, go out, and dance barefoot in the grass!
© 1995 Curb Records, D2-77794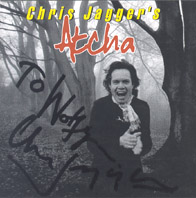 Chris Jagger's Atcha
(signed)
featuring Dave Gilmour, Mick Jagger, Leo Sayer, Dave Stewart
© 1994 Chris Jagger, © 1994 Sequel Records, © 1994 Castle Communications CSC 7121 CY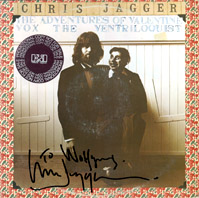 The Adventures Of Valentine Fox The Ventriloquist
(signed)
© 1974 Elektra / Asylum / Nonesuch Records 7E-1009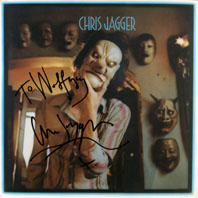 Chris Jagger
(signed)
© 1973 Asylum Records SD 5069




From Kufstein to Muhldorf
unofficial audience recording
limited edition of 50
2 CD-R set, cover not finished yet...




Some biographical notes:

Chris Jagger, born on 19th December 1947, had a carrier in clothes design, theatre and journalism as well as music. He has acted in repertory and fringe theatre. In the seventies he signed as a singer with David Geffen and made the two above albums in the States, "Chris Jagger" and "The Adventures Of Valentine Fox The Ventriloquist".
Some years later Chris resumed his musical career working with Franck Langolf (producer of Vanessa Paradis) and assisted lyrically on a couple of tracks on The Rolling Stones' album "Steel Wheels". Chris then concentrated on writing material for himself and the critically - acclaimed album Atcha was the result . Atcha contributors included Dave Stewart , Dave Gilmour and Leo Sayer , and these three also joined Chris at some charity concerts he arranged , (two 'Shows for Tibet' and 'Bop for Bosnia').
Since 1994 he has worked with his own band "Atcha", and released the CD's "Atcha", "From Lhasa to Lewisham" and recently "Channel Fever".


see also:
CHRIS JAGGER's ATCHA IN MÜHLDORF, BAVARIA, GERMANY, March 25th, 2000



back to Rolling Stones Exhibition main page

Comments and suggestions please: Wolfgang Morscher